The Day it Rained Forever by Lynette Greenfield
What led you into writing?
I literally began my writing journey on the very day that my father passed away. I was twelve years old. Dad was very sick and, by the time he was close to death, he didn't recognize me anymore. I found it incredibly difficult to see him in those last few days before he passed so, obviously, this was a very emotionally traumatic experience for me. But what really stayed with me, was that, after he had died, I was told it would be good for me to go to the hospital and say goodbye to him, (to his dead body). I recall having to stand on a stool to reach him and tried to hold his hand, but it was too stiff. I was told that saying goodbye would help. It didn't help. What really helped was going home and writing down a poem, then addressing it to him. It helped me connect with him because I also had a close relationship with God and my faith was strong. As a child, I felt as though writing gave me a way to reach out to him. And now, as an adult, that concept still exists. Writing was, and will always be, my clearest voice. It is the most accurate and most honest version of myself.
How does a typical day look?
Juggling multiple tasks while completing a novel is essential for me, because writing is what keeps me grounded. I have four children, and two of them have autism, so life is loud, chaotic, and busy.
I try to write during the day, but I also run a Publishing Company, as well as home-school one of my children. So, realistically, it is really, only when the evening arrives, when all I hear are the Australian night birds serenading my children and listen to the gentle hum of the machine cleaning the last load of washing, that I finally begin to write. I turn to my novels and blissfully lose track of time. This is when I work best and, thankfully, this is also what works best for my family. Sometimes I write for an hour; other times I am still writing until the alarm goes off and the chaos begins again. But no matter how many chapters I get through, what's important to me is maintaining a steady output, not only to stay productive, but also for constant practice on my craft.
In what ways do your characters test your abilities?
Mostly, my characters challenge me to be more truthful. There have been many times when I have wanted to write something that someone I know might easily recognize as a trait within themselves; they'd know the event was based on their misfortune or would highlight an aspect of themselves they do not want known…, but the character demands it. There are also truths about myself that will benefit the story. I can spend months deciding on these dilemmas, only to usually give in, cringing as I type. It's not easy, but the characters need it; without it, they would often seem hollow. This, and producing my best work, is what drive me to choose bravery over silence and write honestly. Ultimately, my work has been described as confronting and moving. But I would rather provoke a response than be left unnoticed.
What's your setup?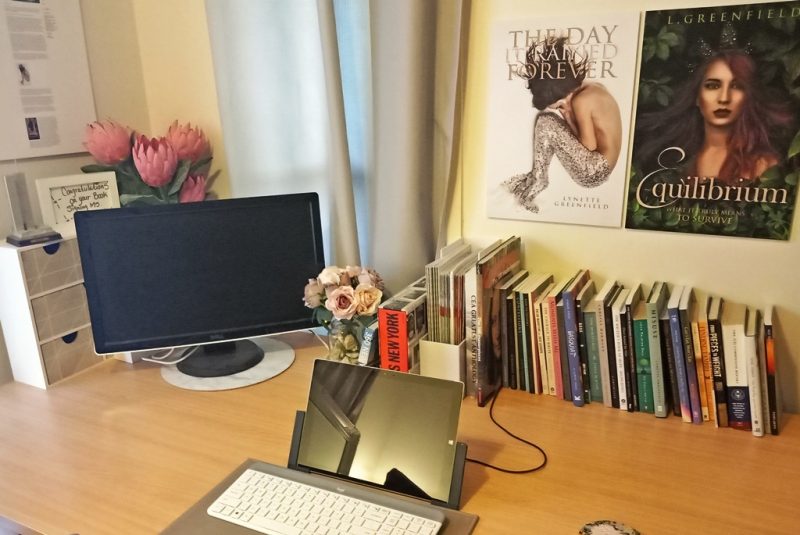 I work using a surface pro and ALWAYS have headphones plugged in. I sit at a desk, but often end up in any number of locations around the house; in bed, on the sofa, in the kitchen, and sometimes, even in the car. Staying mobile allows me not to stall and helps with my daily word count goal.
What lasting effects have your favourite authors had on your writing and style?
My favorite fiction author is Charles De Lint, the author of Memory and Dream. The first time I read his work, was the first time I realized how well fiction and fantasy worked together. I also read a lot of Alan Watts and Ralph Keyes, who both inspire me to get past writing blocks and personal roadblocks in my literary career. Authors who inspire me remain in the back of my mind. And it's always their bravery, their elegance, and their truthfulness that stand out. These are qualities I aspire to. These are qualities I hope to refine in my own writing.
What do you do for inspiration?
I get inspired by two things. The first is music. Almost all my novels were written to a specific album and generally, at that time, the album was a new release. The new sounds and lyrics in my ear, strongly influence my work, provoking fresh emotion that translates into stories. The second thing I am highly inspired by, are people striving to achieve goals in their chosen field, regardless of opportunity or talent. My heart beats loudest when I am speaking to, or discovering, people with a strong passion for whatever they're doing, be it dancing, business building, writing, singing, or sport. It makes no difference what the art or project, what I love is the drive, focus, passion, and heart they all share. It is truly inspiring to see someone immersed in their art.
What repeating themes do you find yourself pulling into your stories?
I am a city girl. I love everything about large cities. But every time I write a novel, I always have characters leave the city. I keep coming back to a shoreline, or a farmhouse, a lake, or a smaller city. I know this is not because I don't enjoy cities anymore. But after noticing this trend multiple times, I tend to think it might have something to do with my anxieties about getting older and raising disabled children. I think, in the back of my mind, I'm searching for how I can prepare them for when I'm gone.
How do you wind down?
I swim laps. Swimming is the only sport that takes me away from reality for an hour or so. When in the water, I can't hear anything. I'm relaxed and cool. Exercising has always been the way I clear my head. Recently, I started boxing with my husband. It's been a totally new way of stress relief, but nothing is better than the water. I live in a sunny, hot place. Here in Brisbane, Australia, it's hot for most of the year, so the pool is a natural place of joy for me!
What sort of challenges do you regularly overcome while world-building?
Understanding that world-building is so much more than a framing device. It is a challenge for me to combine real locations with new worlds and relaying how I see that location or world. I never want the reader to be too familiar with a place, but it's nice to be able to reflect familiarity, with a spin. After all, I doubt that all ten people standing in front of a tree, rustling in the summertime wind, would get the same emotional response from looking at it. In the same way that paintings evoke different responses, I strive for my writing to do the same. I want to take people to amazing places but allow them to realistically imagine as though they can actually be there.
What's the most useful advice you could give to an aspiring author?
That the publishing industry is not what it used to be. It is not scary, nor is it difficult to navigate. You just need to talk to the right people and take advise. These days, the POD option (print on demand) has allowed writers to publish and not have to spend thousands of dollars on inventory. I'd also like writers to remember that many authors were turned down by major publishing companies, many times over. So, it is important to never give up, never lose hope, never stop striving for what you want to achieve. With one word at a time, one sentence, one paragraph, and you will get there. And, as you remain focused on what you love doing, doors will open. Be brave, stay focused, and don't let anyone stop you from reaching your goal!
Tell us about the book you're promoting.
The Day it Rained Forever, is a fictional story about a girl who was gang raped, then overcame the ordeal when confronted by one of the attackers' brother. She finds out why he was involved, and what happened to him after the incident. It brings to light a discussion about forgiveness and emotional self-awareness, challenging faith in oneself, as well as the topic of avoidance and of inner strength.
This story is based on what happened to me. Long before I was married with kids, I was gang raped by four U.S. Marines who videotaped the ordeal. I wanted to show my kids that there is a way through darkness and that, by facing fears, adversity will never prevail. At this point in my career, I am all about building a lasting legacy. And one of the main things I want my fans and children to know is how, in so many ways, truth in writing is absolutely empowering!
👋 Hi! I run Author Interviews
As a new writer I found myself itching to contribute to a thriving, creative community, so I made Author Interviews and I've met loads of wonderful people in the process. You can buy my debut fantasy RINGLANDER: THE PATH AND THE WAY from Amazon.